Discover more from So Relatable
Inspiration, motivation, and conversation to help creative folks achieve their goals. Plus snacks!
Over 1,000 subscribers
A little goes a long way
This newsletter is So Relatable!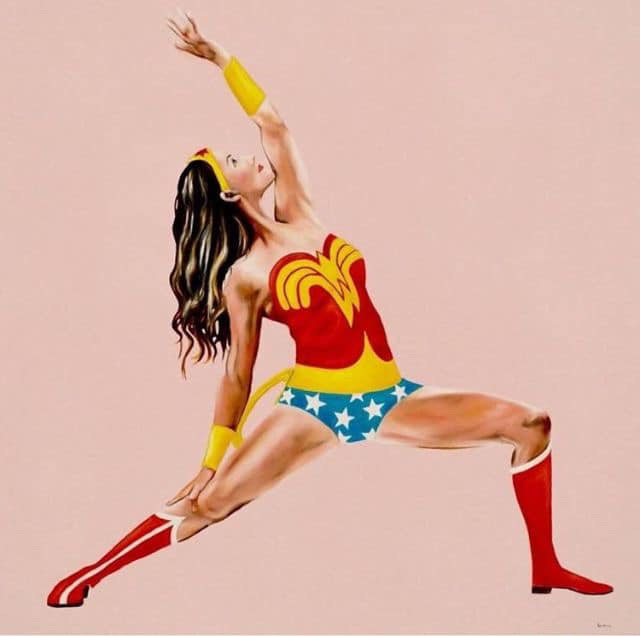 Did a friend forward this to you?
At the end of December, I decided 2019 would be the year of monthly challenges. Small, actionable things I could attempt and hopefully accomplish, with clear deadlines and tangible results. In January, . In February, I wrote and mailed one card every day. In March, I used the KonMari Method to tidy my life. So far, so good. Now it's April, and I'm in the middle of a daily yoga challenge.

I've been practicing yoga on and off for over twenty years, with varying levels of intensity. These days I go once a week at the YMCA, and drop in on other classes here and there. I'd like to practice more, but there just aren't enough hours in the day, or enough days in the week. Finding a class that fits my schedule, getting to it, paying for it - the whole process is not exactly zen.

When I was first sussing out the rules for this challenge, I thought I might aim to attend a class every day, or make myself try out every studio in town. (Wilmington is basically 90% yoga studios and breweries.) But I know me, and I know better than to set the bar too high. I'd accomplish the goal, because #goals, but I'd make myself miserable in the process.

So I lowered the bar and decided this was the perfect opportunity to kickstart a home practice, using free videos on YouTube. And then I discovered Yoga with Adriene.

Adriene Mishler is a woman in Austin, Texas, who records and posts free yoga videos (over 400 and counting!) for her nearly 5 million subscribers. (When I say I "discovered" her, I mean in the Columbus sense.) Her goal is to make yoga free and accessible to people of all ages, shapes and sizes across the globe. The best part, however, is that her videos tend to be around 20 minutes long.

When I first decided to do this challenge, I thought 30 minutes would be the minimum. (Hey, ) But then one morning I woke up late, spent too much time reading the internet and drinking coffee, and still needed to wash my hair before work. I didn't have much time to spare, so I found a 7 minute video, rolled out my mat, and got it done. I thought I'd feel guilty when I was finished, as if I'd cheated or broken my own rules. Instead, I felt great. As it turns out, there's no minimum when it comes to yoga, no poses you must master to make it count. Seven minutes in my living room can be just as valuable as 90 minutes in a studio.

The lesson here (because there's always a lesson) is that little things add up. Whether it's reading five pages a day, spending half an hour on a passion project, bringing home , or walking 100 extra steps throughout the day. Life is rarely "all or nothing", which is good. Rather than getting one chance to reach our goals, we have an opportunity every day to make a tiny bit of progress. Take those opportunities often enough, and who knows where you'll end up.
One Link at a Time
Should Every American Citizen Be a Yoga Teacher?, New York Times. The title is misleading - this is actually a fascinating article about yoga and multi-level marketing schemes, two of my favorite things. 🙏


The Problem with Telling Women to Email Like Men, Broadly. "It asks those who are already disadvantaged by social structures—in this case, male-dominated corporate culture—to put in extra work only to further uphold those very same structures." BRB, re-adding previously deleted exclamation points to all my emails!!! 🙌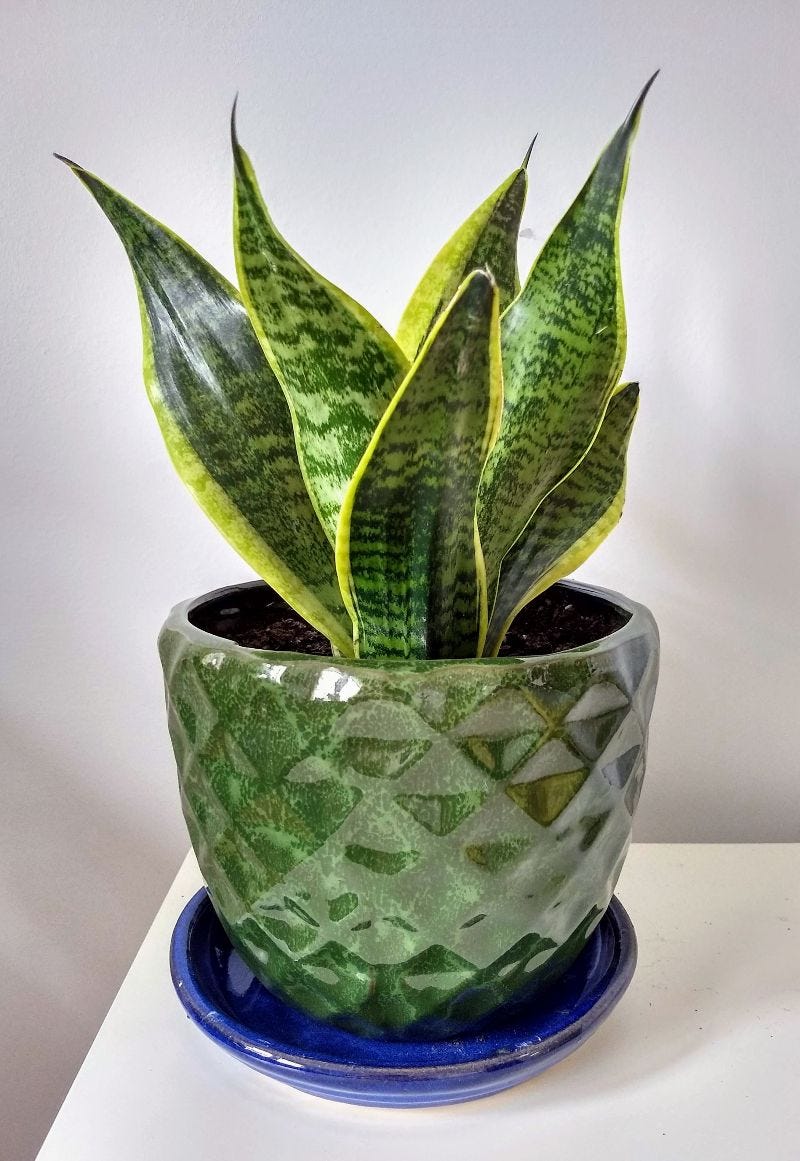 🌿 Plant of the Week 🌿
Say hello to my snake plant! Also known as Sansevieria, it's beautiful and extremely forgiving - great for beginners who may not yet have the greenest thumb (this explains why mine is still alive). In a study performed by NASA, it was found to be one of the best air purifiers. But the best thing about this plant is that one of its many aliases is Mother-In-Law's Tongue, which is the kind of trivia I find particularly delightful.
A Tiny Challenge
Imagine the smallest possible step you can take. Then: take it.

See you next Sunday! 💌

PS: I'm headed to Las Vegas this week for a conference, and I've never been! Open to any and all recommendations, with the caveat that I'm naturally risk-averse and need to maintain the illusion that I am a professional.

PS: Did you like this email? Forward it to a friend!
PPS: Did a kind friend forward you this email? Join the party and sign up!