Tell me something I don't know 💌
Did a friend forward this to you? Subscribe here!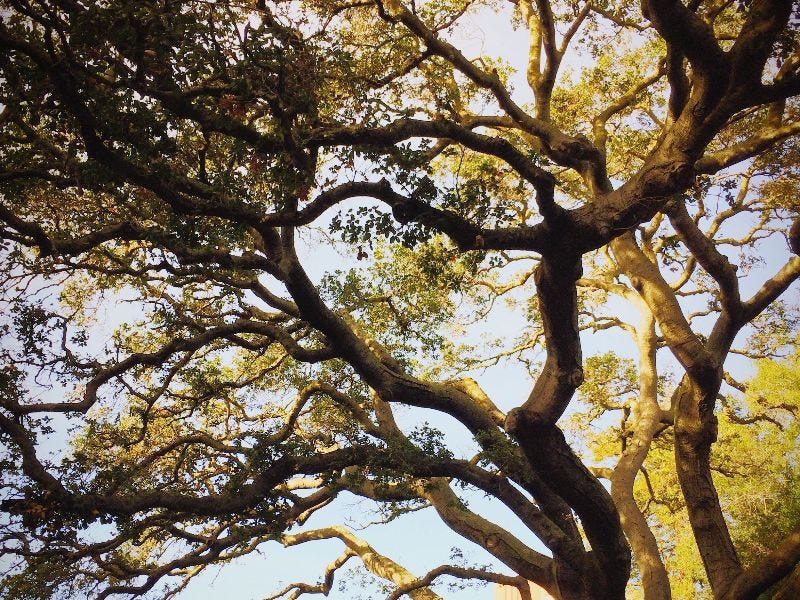 Last week I didn't send a newsletter, only my second missed Sunday since starting this project. The first time I skipped because I was busy moving into my new house. This time I skipped because my grandfather passed away, and I spent the weekend on Long Island for his wake and funeral.

During the wake, the deacon who spoke joked that my grandfather had enough children, grandchildren and great-grandchildren to populate a small island; only a slight exaggeration. The room was packed with family, ranging from my grandparents' oldest child, who has seven grandchildren of his own, to my fourteen-month old nephew, the newest great-grandchild, who careened through the crowd and ate the tissues meant for our tears.

As I looked around the room and tried to remember how we were all related - aunts and uncles are easy; grandaunts and third cousins, less so - I could see the limbs of my family tree branching from my grandparents, our overgrown canopy.

In literature, a character's origin story doesn't begin at birth - that's too easy. It begins much later, with a moment or experience that changes their perspective, cements their personality, alters the course of their life. This pivotal moment may not make it into the story you're reading, but it echoes in each choice the character makes, explains why they turn right when everyone else heads left.

We tend to think of our grandparents as part of our origin stories, marvel that if they hadn't found one another, none of this would exist, as if we were the ultimate goal. When I was born, my grandparents were already retired, already grandparents. I never imagined them raising children, having careers. My grandfather was born in Italy. His mother died when he was three and his father, who worked on a cruise ship, couldn't raise him alone. He was sent to the United States, to live with relatives, and that's when his story really began. Or did it?

All weekend long, I thought about my great-grandmother, a story I'd never heard until my uncle delivered my grandfather's eulogy. How it must have felt to lose her so young, and how that loss must have followed him across the ocean. How it explains, maybe a little, why he was a doting father to six children of his own, a devoted husband to my grandmother for 69 long and happy years.

It's hard, nearly impossible, to pinpoint where our stories begin, because we're always changing, learning, growing. All our lives we turn left, but there's always the chance that we can choose right.

Endings, on the other hand, are clearcut. The last page, the final image. The military cemetery on a crisp October day, a casket draped with an American flag. My grandmother, wiping tears from her eyes before ushering our small island to an Italian restaurant where she commands us to eat until we're full, until we can't take another bite. 💛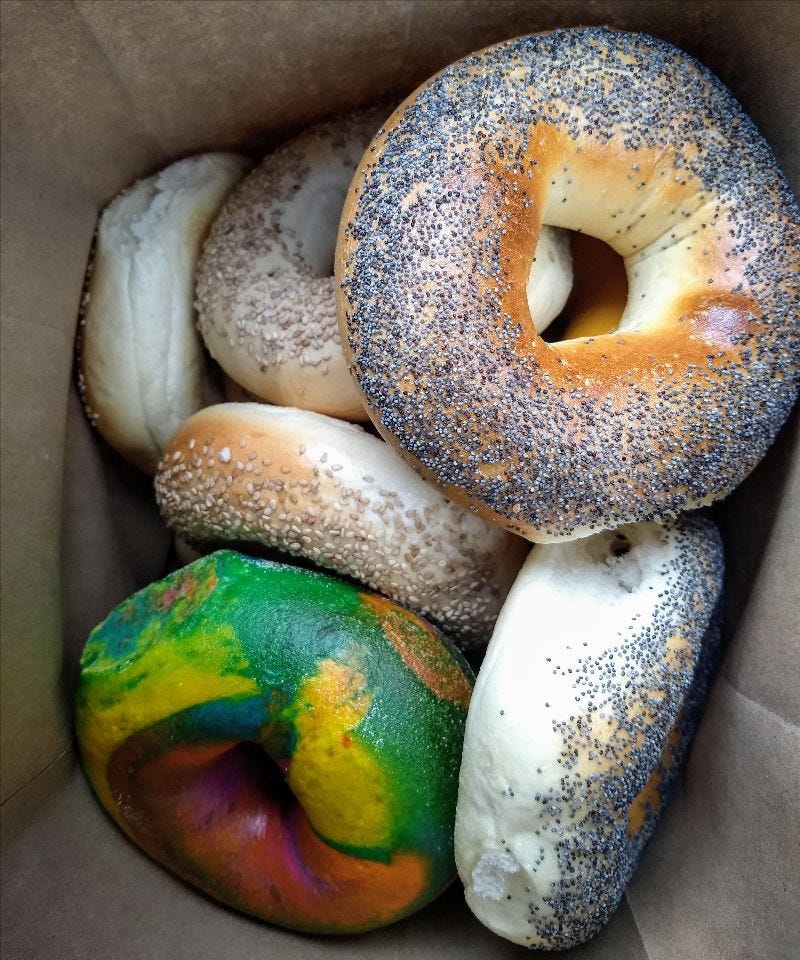 ✨ Snack of the Week ✨

Because I was born and raised on Long Island, I have high standards for things like bagels and pizza and shopping malls. The first morning I was home, my sister and I visited a local bagel shop and ordered a dozen. At which point the angel behind the counter informed us that we'd earned an additional six bagels for free. Let's just say that by the end of my visit, I was approximately 76% bagel.
Relatable Reads

The Rise of the "Getting Real" Post on Instagram, The New Yorker. "At their worst, such posts pull the same trick as aspirational content: they leverage insecurity for profit." Yes! This article nails why I find "vulnerable" photos and posts utterly disingenuous. It's all about those clicks, baby. 🤳

The Rise of "Hangry": A Modern Word for a Timeless Feeling, Eater. "The solution to hunger and hanger is the same — you just eat something — so why did the language to describe it need to change?" As someone who can go from fine to hangry in approximately three seconds, I appreciated this lesson in etymology! 🤤

Pollinate, Hobart. "Us southerners were pissed when we realized Heaven was to the north and we would have to walk. Of course the north gets this one." I have a soft spot for anything written in first person plural, and this flash piece by my friend Cassie absolutely delivers. 🐝


A Tiny Challenge

When someone passes away, we lose all their untold stories. This week, reach out to someone and ask them to tell you a story you've never heard before. If you have a story you've been saving for a special occasion, take this as a sign that your moment has arrived.

See you next Sunday! 💌

PS: On Instagram, I mentioned I was thinking of making this a bi-weekly newsletter rather than a weekly one. The results were pretty evenly split but if you have strong feelings either way, hit reply and let me know! In the meantime, I'm going to stick with weekly as long as I feel the quality can match the quantity. I take these newsletters seriously and want to give y'all my best!

Want to buy me a ☕️ to help fuel these newsletters?
Venmo: @Christine-Hennessey