Everything you wanted to know about going viral
Forward this newsletter to someone who can relate!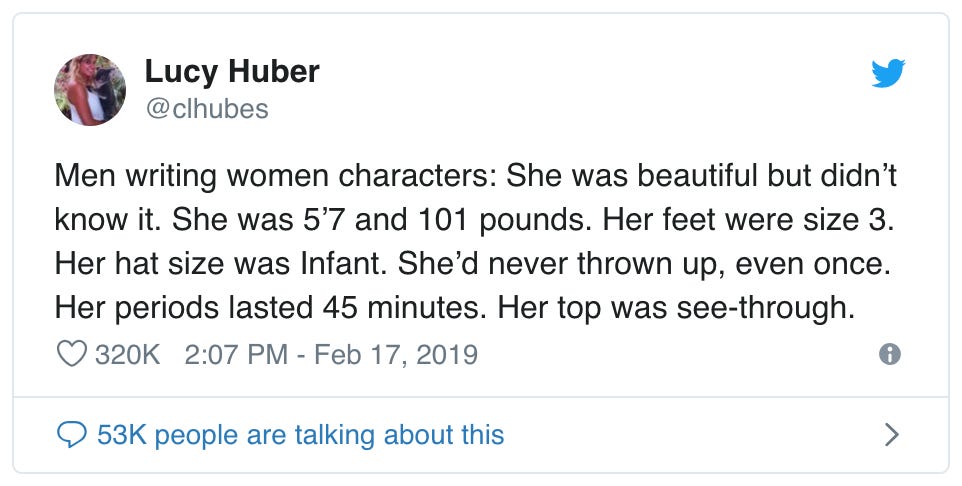 By now, you've probably seen the tweet. It's been liked, shared, Instagrammed, listicled, linked to, and rounded up approximately one million times. It also happens to be written by my dear friend Lucy Huber, a talented writer and extremely funny person I was lucky to meet in grad school. Lucy isn't a one-hit wonder, either! In 2017, she published the MOST READ piece at McSweeney's, and told the story of her accidental double-proposal on the Moth. Today, she can add one more illustrious achievement to her list: an interview in my newsletter about her viral tweet! (That was a joke. Clearly I'm not the funny one in this relationship. A N Y W A Y...)

Hi Lucy!
Hello!!!

First things first: how are your mentions?

I deleted the Twitter app from my phone the last time I went viral (not to brag) so I didn't actually get any push notifications from this tweet, which was a blessing. But for a few days when I went to Twitter I had like 100 notifications every time I refreshed the page. It's died down since then, but it was a little wild. But also probably a blessing in that there's absolutely no way I could have ever read all of the replies. I think that helped to filter out most of the men who were angry that I dared insinuate that men are not perfect and all the men who, bless their hearts, tried to make similar jokes about women writers writing male characters but failed miserably. It was really distracting though, and I def wasted a lot of time refreshing the page just to see the numbers go up. I think I lost like two days just doing that. I don't remember them.
With over 320K likes and 50K retweets, your tweet is most definitely a viral sensation. Was it inspired by anything specific?

I have a confession! I don't actually think this tweet is that good or original! I follow a ton of amazing women comedy writers on Twitter and most of them have, at one time or another, made a version of this joke. But honestly when I wrote it my husband and I had been watching a lot of the show Angel (don't judge me) and there's a character on that show named Fred (she's a girl) who is incredibly skinny. They always talk about how much she eats, and it drives me crazy! It just made me think about how male writers often just have this idealized version of women where they are just naturally tiny and can eat whatever they want and be sexy and fight demons and it's just all so exhausting.

I think most women have internalized the way men write female characters and feel like there's something wrong with them because they aren't 100 pounds and size 00 and have bodily functions. But men have no idea what they're talking about! They're just making stuff up. I've struggled a lot with how I feel about my body and it's disturbing to think how much of that came from comparing myself to women that were written by men who were just writing their unrealistic fantasy.

You tweet a lot, and you've gone viral a few times. Do you know when a tweet will be popular? Did you have any idea this one would spread so fast?

No! It's honestly such a mystery to me. I don't think my tweets that have gone viral are my funniest tweets by far. I've written some tweets that made me laugh so hard and then they got like...4 likes. I think the tweets that go super viral are usually the ones that are relatable. People really relate to this idealized female character because we've all seen it before. One thing that definitely helped propel this tweet is that I have an amazing community of female comedy writers that follow me and that I follow on Twitter and we were all adding to the joke together in the replies so it ended up being a hilarious thread, which I loved.

You're an excellent writer, essayist and comedian in addition to killing it on Twitter. Do you have any kind of creative process when it comes to tweets?

I tweet WAY too much. I use Twitter the way some writers use an idea notebook, I just tweet all my thoughts. It's honestly kind of embarrassing how much I tweet, but I can't stop. I love and very much crave the instant gratification of Twitter.

That being said, I do put a lot of thought into structuring my tweets. I usually write 4-5 versions of a tweet before I publish it. I think of it the same way I do when I think of structuring sentences when I write. I'm super fidgety about jokes. How do words sound together? How specific can I be? What words are funniest?

For example, in the latest viral tweet I thought really hard about what would be a funny hat size. I don't know any real hat sizes, but it doesn't matter. A hat just being small isn't funny, but a hat specifically sized Infant is funny because a. that's probably not a real size, and b. now you're kind of picturing a baby in like a tiny fedora. A woman never pooping is too obvious, you've heard that joke before, but a woman never throwing up is funny because, honestly, there is a tiny strange chance someone just has somehow never thrown up before and it's funny to think about that. A period lasting 45 minutes is funny because for some reason 45 minutes is the funniest length of time. I don't know why, but it is. I tried other lengths and they weren't as funny. Then of course you build up the joke to get more and get ridiculous and then turn it around with "her shirt was see-through" because that's not ridiculous: that's incredibly realistic. Anyway, this is what it's like to live inside my brain.

What is the best thing that happened as a result of this tweet? The worst? The weirdest?

I got a ton of new followers, which is good. I'm a freelance writer so having my name out there is always good, it's how I get jobs. I basically built my entire current career around one viral satire piece I wrote two years ago. Enough editors saw it and asked me to write for them that I am able to do it full time now. (Ok, I also work at a gym and walk dogs, but whatever).

I also got like over 100 Instagram requests, which I do not like! I have no desire for anyone I don't know to follow my Instagram. It feels too personal. My persona on Twitter isn't really me, it's my comedy voice, it's the voice I want to project professionally as a writer. My Instagram is like, my actual life, just with filters so I look prettier.

The tweet also definitely made a lot of men mad which I don't care about at all. They wanted to either argue about how they don't write women like that or try to tell me I just wasn't reading the right books or watching the right movies. But I think the point that they're missing is that regardless of whether they write like this or whether there are men who don't write like this, there are so many men who do and it's a problem.

Enough about men. What are you working on now? How can we read more of your work?

I just wrote a sketch comedy show with two friends that is going up in Boston this week! It's about serial killer H. H. Holmes trying to find love and also a parody of true crime podcasts. I'm also in it as a drunk girl who is obsessed with true crime. Other than that, I'm working on another sketch comedy show and have some new satire coming out soon at The Belladonna. My goal is to work on a longer project like a book, but it's hard for me because I crave the instant gratification of shorter things.

Thank you, Lucy! I loved hearing about your creative process and why we should all follow as many funny women on Twitter as possible. (Reader, start by following Lucy!) Here's to viral tweets, great writing, and the widest imaginable range of hat sizes.
Antidotes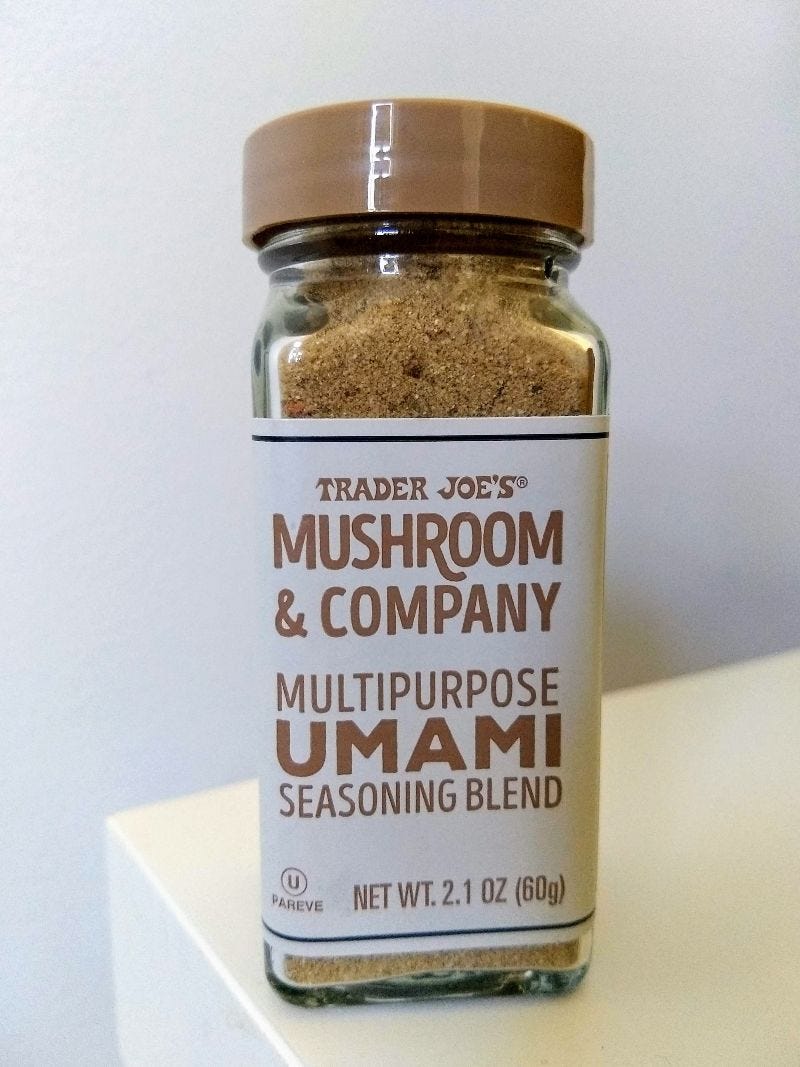 ✨ Snack of the Week ✨
I initially bought this because my husband is obsessed with fungi of all kind and I thought it was funny. Joke's on me, because this umami seasoning is 100% delicious. I'm not suggesting you eat it straight from the jar (though if you did, I wouldn't judge you). Instead, generously sprinkle it on some fresh popcorn with a little salt. Sounds weird, but tastes great. Even Nathan, who is not really into snacks (opposites attract, y'all) loves it, and that's saying something.
A Tiny Challenge
This week, follow some funny women on Twitter! Your timeline and your life will be so much better. I asked Lucy for a few recommendations, and she shared the following:

"This is so hard! I really love Lillian Stone, she just had a really funny McSweeney's piece called "I'm a Clog Bitch Now" come out. I also love and have been following comedian Ginny Hogan, like literally following her, I showed up at one of her shows in Boston and asked her to be my friend. Riane Konc is also a hilarious writer/comedic genius who publishes in McSweeney's and The New Yorker a ton. There are so many more, but for the sake of brevity I will say the entire satire site The Belladonna! They publish women writers and it was founded by four hilarious women who just wrote a book based on one of their McSweeney's pieces."

See you next Sunday! 💌

PS: Did you like this email? Forward it to a friend!
PPS: Did a kind friend forward you this email? Join the party and sign up!