An egg-cellent time of year
This newsletter is So Relatable!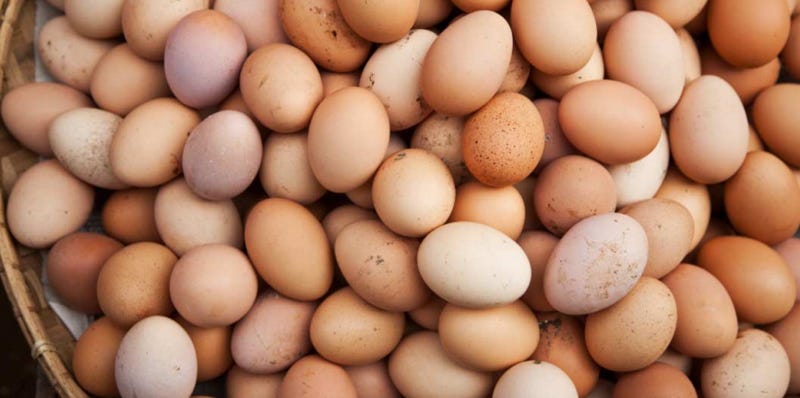 Did a friend forward this to you?
The chickens are laying again. Their cycle is tied to the length of the day, so during the long, dark winter, they don't lay much at all. People are always surprised to learn this. "You have so many chickens! Why are you buying eggs?" Because I love eggs, and I respect the ladies. If they want to take a break, I'm not going to argue with them.

Despite not being a chicken, I also like to take it easy in the winter. I prefer to stay in, hunkered down with endless cups of tea, overdue library books, and the softest sweatpants. It's not uncommon for me to spend a whole weekend entirely alone, especially if my husband is working. When a winter day stretches before me, empty and cold, a kind of quiet slips in, a rare and necessary gift.

Back in the beginning of January, just as winter was really getting started, and sent it to a few trusted friends. I've barely thought of the book since, which is another kind of gift. Instead, I wrote a short story, started this newsletter, did a little freelance, read a bunch of books, and spent a ton of time at the YMCA. After thinking about the draft every day for over a year, it was good to focus on other things. Give the book-writing part of my brain a rest, use my body more.

But now, the days are beginning to lengthen. The temperature is rising. The azaleas are blooming, a delightfully eye-rolling riot of color in every yard. The chickens are filling the coop with eggs, and I feel myself waking up. I want to explore my city, see my friends, cook and build and plant and make. I want to return to my draft, revise it one more time before pushing it out of the nest and into the world. Just like the chickens in my backyard, winter has left me well-rested and ready to work. I enjoyed the break, but it's good to be back. 🥚
Why, Why, Why
Why "Doing Nothing" is the Best Self-Care for the Internet Era, GQ. After reading this smart interview, I'm going to end every day by asking myself, "Was there a time in the day when I was fully aware of the fact that I'm alive?"


Why Is Stalking People On Venmo So Addictive?, The Cut. "When you display how often you spend, on what, and with whom, you may inspire "venvy", a portmanteau of "Venmo" and "envy" coined years ago that has only become more relevant as the app has grown."


Why Does It Feel Like Everyone Has More Money Than You?, Harpers Bazaar. Because they have wealthy parents, basically. And also because apparently I can't send a newsletter without at least one article about class warfare.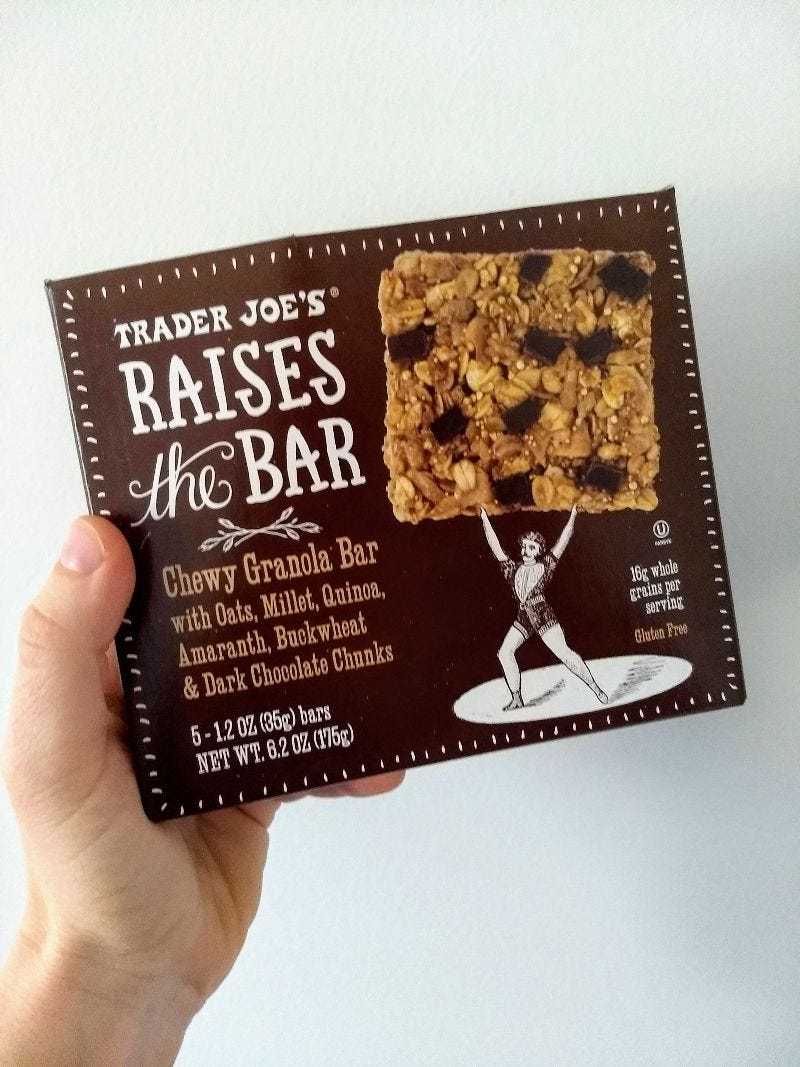 ✨ Snack of the Week ✨
First of all, many thanks to Trader Joe's for aiding in my secret quest to only eat puns. Secondly, I really like these bars! Millet and quinoa and oats and amaranth go down much easier when they're accompanied by dark chocolate chunks. These bars seem a little on the small side (listen, I like a substantial snack) but they are surprisingly satisfying. In other words: welcome to my cube.
A (Not So) Tiny Challenge
2019 is my year of monthly challenges, and I've decided to do yoga every day in April and finally establish a solid home practice. The plan is to follow Yoga with Adrienne's April calendar. All the videos are free on YouTube and most of them are around 30 minutes long, which seems reasonable. Let me know if you want to do it with me!

See you next Sunday! 💌

PS: Did you like this email? Forward it to a friend!
PPS: Did a kind friend forward you this email? Join the party and sign up!